Rent Storage
Security Deposit and first months rental fee due at time of rental reservation. No long term rental required. Rental agreements constitute month to month rental periods with a 30 day minimum rental. 30 Days notice is required to cancel a rental agreement and is easily done by submitting notice through your online account. Rental fees are billed monthly and due on the 1st of each month for any given month and are conveniently paid through your online account. Auto-pay is available to make all of our lives easier!
Open Storage 30 Foot (30 x 10)
Open Storage Space up to 30 feet
Open Storage 40 Foot (40 x 10.5)
Open Storage Space for 30-40 feet
10x12 Unit (10 x 12 x 12)
10x12 Unit with 4x7 roll up door.
15x12 Unit (15 x 12 x 12)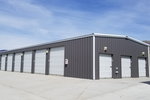 15x12 Unit with 10x10 Roll Up Door
20x12 Unit (20 x 12 x 12)
20x12 Unit with 10x10 Roll Up Door
25x12 Unit (25 x 12 x 12)
25x12 Unit with 10x10 Roll Up Door
30x12 Unit (30 x 12 x 12)
30x12 Unit with 10x10 Roll Up Door
35x12 Unit (35 x 12 x 14)
35x12 Unit with 10x12 Roll Up Door